Cotopaxi Tasra 16L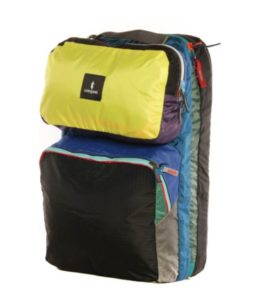 The Cotopaxi Del Dia collection is vibrant, unique, and widely known for its lightness. Just like Tarak, Batac, and Luzon, the Cotopaxi Tasra 16L also is produced in the same way. Every time a person orders backpacks from the Del Dia collection, they always get a unique and cool designed backpack. No two backpacks look the same. These colors always look vibrant together, and you definitely won't have any regrets regarding the backpack's look.
What does the Tasra 16L offer?
The Tasra comes with a capacity to hold 16L of items. A unique feature of this backpack is that it is also designed like a suitcase. This means that you could also carry it like a briefcase if you tuck away the shoulder straps. The main compartment opens like a briefcase, so you can see and have access to things a lot easier. 
Features:
Design and Make:
Every Tasra is designed uniquely through Cotopaxi's employees in the Philippines. This backpack is also made of Repurposed nylon ranging in thickness from 75D to 120D. 
Laptop Sleeve:
Tasra also has a padded laptop sleeve. Most 15 inch laptops fit comfortably in this sleeve. 
Collapsible Design:
Tasra is collapsible and is built more like a suitcase than a backpack. We can use this backpack as a messenger bag, as a backpack, or as a briefcase. 
Comfort:
This backpack is very comfortable and flexible by nature. Whether you are going to the office, or hiking, or going someplace, Tasra is convenient to use.
Roll-up:
Another great feature of this backpack is that you can roll this backpack up and store it when not in use.
Ease of access:
The zipper at the top makes it very easy to access things in the backpack. You can see everything when you open the backpack.
Straps:
Tasra's backpack straps can also be tucked away. You can use this as a messenger bag or a backpack or a suitcase according to your need.
Pockets:
This backpack has just the right amount of pockets. The internal compartment also has a zipper, so you can keep things you want to secure here.
Pros:
Cotopaxi Tasra 16L is economical when compared to other laptop backpacks.

Tasra 16L is also lightweight and durable.

Compartments are all well thought out and organized here.

This backpack also has large front pockets.
Cons:
Tasra 16L doesn't have much padding to support heavy loads.

Also, this backpack is water-resistant but not waterproof. So one should think twice before going in the rain.

When heavy items are put inside this backpack, the sternum strap sinks due to the weight. This backpack isn't ideal for heavy items.
Our Conclusion:
Most Tasra reviews online omit that this isn't a great backpack to go hiking or any other activities requiring heavy gear. We can carry minimal gear in this backpack, but this isn't really a heavy use backpack with not much padding available. 
There are many great features like you can rollup the backpack when not in use or the fact that you can even use this backpack in three ways! Overall, the Cotopaxi Tasra 16L makes for a great laptop backpack. Designed uniquely with vibrant colors, this backpack also has a very cool and trendy design. If you want a trendy laptop backpack for regular use or going for activities with minimal gear, you have a great option to consider here!