Cotopaxi Allpa 35L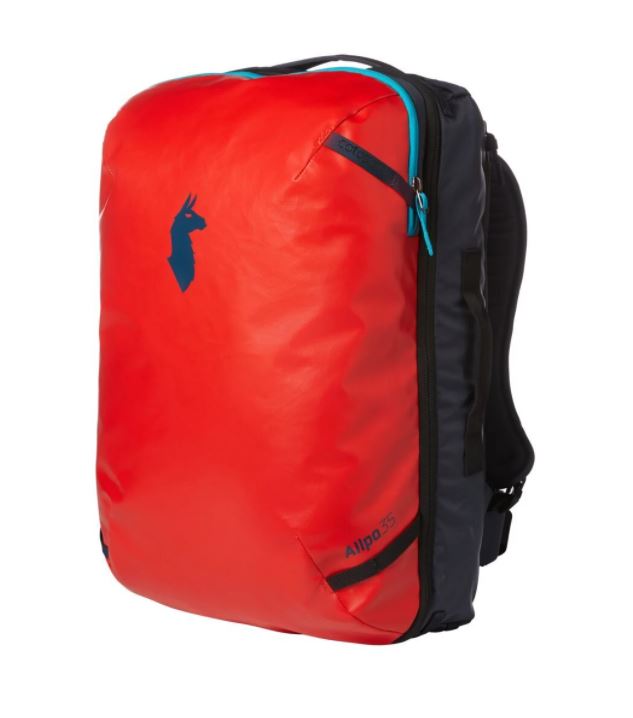 Cotopaxi Allpa Travel Pack is widely known for its lightness and durability. Cotopaxi Allpa 35L  also has a weight harnessing system that allows its users to have a comfortable experience by balancing the backpack's weight. This is done by distributing the weight as Cotopaxi uses a low profile harness.
This suitcase styled backpack has many compartments, which is a dream for organized packers. The Cotopaxi Allpa 35L also comes in vibrant colors like Black, Fiery Red, Indigo, Spruce, Evergreen, and Sahara.  Allpa 35L is carry-on compatible, and it has a 35L capacity. There's also another size in Cotopaxi Allpa 42L if you do want to go for a bigger backpack.
What does the Cotopaxi Allpa 35L offer?
The Cotopaxi Allpa 35L has many compartments, and it even has a small zippered compartment where a piece of chewing gum can even be stored! The Allpa is a reliable backpack, and there is reinforced stitching wherever you look here. This backpack can be used for traveling anywhere, and even on airplanes; you can just remove the straps and keep it under your seat or on the overhead bin. 
Features:
Strong and Durable Material: Allpa Travel Pack is made of TPU-coated 1000D polyester, with durable 840D ballistic nylon paneling. This is a strong backpack that can withstand any conditions. 
Security: All zippers on the Allpa backpack have a theft-proof webbing sewn across the openings
Harness system: There's a low profile harness system that distributes weight across the backpack and ensures the user has a comfortable experience.
Rain Cover: This backpack also has a rain cover while the outer panels are also water-proof.
Stowable Straps: The straps can be neatly tucked away, and the backpack can be used just as a normal bag.
Padded Sleeves: This backpack has padded sleeves for both laptops and tablets. The laptop can also be easily accessed via a slide zipper. 
Design: The main compartment has a full wrap zipper (similar to that of a suitcase) that opens into a large mesh zipper compartment on the right side and two mesh zipper compartments on the left. 
Zipper Gusset: This backpack also has a zipper gusset that makes it easier to close the backpack even if it's packed too tight! This is because it creates a dynamic compression. So even if it's too tight to close, you can just close the zipper quickly and easily. 
Pros:
The interior and the many compartments are very useful for people who like to organize everything to a tee.

Zippers are very robust and anti-thief.

There are multiple handles present on the backpack. This allows users to carry this backpack anyway one wants. 
Cons:
The rain cover is a bit useless in the sense that the panels are already water-proof. 

This backpack doesn't have air channels.

The hip straps can be a bit too long for short people.
CONCLUSION:
Most Cotopaxi Allpa 35L reviews omit the fact that this backpack has way too many compartments than what a normal backpack user doesn't even use. But this is an excellent option for people who backpack and travel light. It's also an ideal backpack for people who like to organize everything before and while traveling.