Cotopaxi Tarak 20L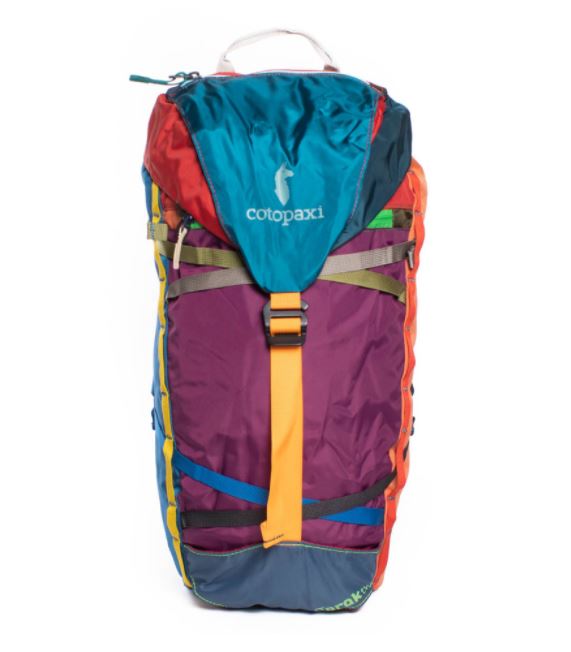 Want a lightweight and durable backpack that you can use for activities like hiking, skiing, running, or rock climbing? Cotopaxi Tarak 20L might just be what you are looking for. Tarak's design makes it an excellent fit for carrying your climbing equipment.
The Cotopaxi Tarak 20L is one of the trendy backpacks available on Amazon. It comes from the Dell Dia collection, which means every Tarak backpack is unique. No two backpacks have the same design as Cotopaxi's employees uniquely make each backpack in the Philippines.
Features:
Design and Make:
The Cotopaxi Tarak 20L is made up of 210D ripstop nylon. This is an excellent material which can be used for a long time. This is a reliable backpack, and the sewing is also of excellent quality. 
Lightweight:
Having a capacity of 20L and the weight being around 600 grams, this is a light backpack to have.
Ice tool carry system:
Tarak has an ice tool carry system, which means that it prevents the straps from unnecessary loops or toggles. This innovative system consists of a bucket of fabric that secures straps at the top. 
Organization:
All the compartments have been well-organized here. This backpack has a large internal compartment which combines with three smaller pockets. This makes it easy for anyone to store and organize their things properly.
Compression and lash points:
On the back of the Tarak backpack, you have compression and lash points that can also be configured to your need. These can also help you arrange your gear in a better way.
Sleeves and Straps:
Tarak 20L has a hydration sleeve and also has low profile shoulder straps. This backpack also has a removable waist belt, making it perfect for hiking and climbing activities. 
Pros:
The backpack has very well organized pockets which can be used to store many things. These pockets are also easily accessible. 
Tarak 20L is a light backpack.
This is also a stable and durable backpack.
Cons:
The back padding is a bit soft, so one must be careful while packing things into the backpack, or else you may feel things poking out. 
There are no external side pockets for keeping water bottles. 
As no two Tarak backpacks look the same, users get a unique backpack every time they purchase this model. Also, being environmentally friendly (as it is made using remnant fabrics), this is an excellent backpack to have.
Our Conclusion:
The Cotopaxi Tarak 20L is an excellent backpack to use for going hiking and other similar activities. This is also a lightweight, comfortable, and durable backpack. The design of this backpack also looks very cool, and the compartments are all pretty useful.
This is a backpack that looks good and also feels good. This is a great option to have if you are considering backpacks for outdoor activities that are also lightweight and durable. If you carry big sized or chunky things, though, this backpack might not be for you as it can only take up to a limit.