Nomatic Travel Bag Review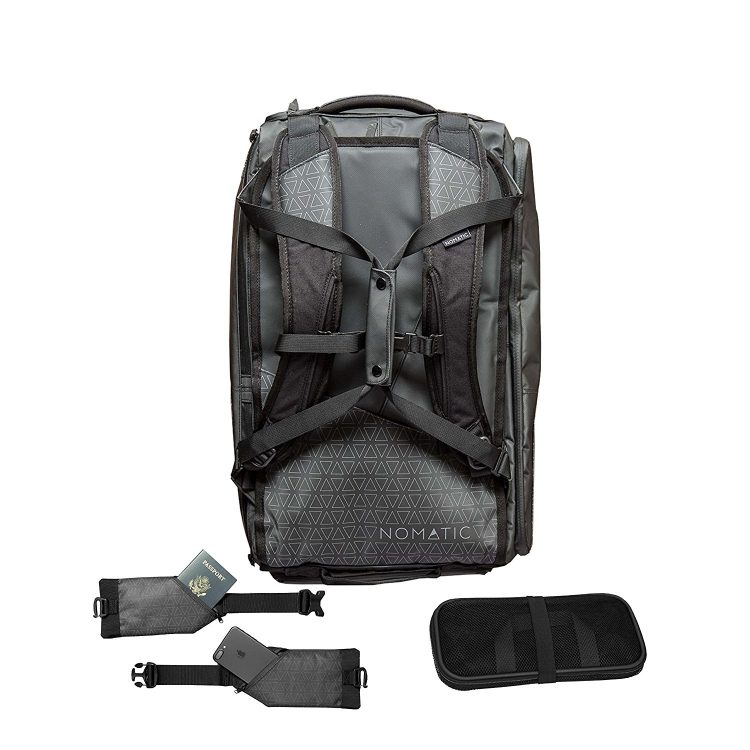 How Useful Is The Nomatic Travel Bag Review?
Travel backpacks are essential for any traveler. They are one of the most comfortable ways to keep all your things at hand at all times, and can even come with a few perks such as integrated batteries to charge your electronics. But like all equipment, good backpacks are difficult to find, especially when considering that there are tens of manufacturers that are constantly releasing new products on the market. Luckily there are a few products that are popular not as a result of their brand but due to the fact that they truly deliver on the promises that their manufacturers make. This having been said, here is the Nomatic Travel Bag review, a look at one of the more useful and resilient products in its category.
Nomatic Travel Bag – A 40L travel Back that's Useful in Any Situation
The Nomatic travel bag is designed to help you carry as much weight as possible with the least amount of effort. Its size makes it perfect for traveling by plane as it fits the maximum size allowed on most airlines, and comes with compartments specially designed to give the owner quick access to electronics and items that may be needed regularly.
The bag itself can also double as a backpack in order to make carrying it easier and includes a laundry bag for those who travel for extended periods of time. This is a model that suits the needs of those who travel on a regular basis and like to always have their possessions safe, but at the same time easy to access.
Features of the Nomatic Travel Bag
The high popularity of the Nomatic Travel Bag, in Nomatic Backpack reviews across the internet, is due to the fact that it comes with features specially designed to cater to the needs of those who travel regularly:
Water Resistant Tarpaulin – The bag will keep its content safe even during storms or if left in the rain;
Size – Perfect to store all your belongings, the bag measures 21" x 14" x 9". The size is within the maximum measurements imposed by most airline companies;
Well compartmentalized – The model comes with a water bottle pocket, one to store valuable items, and a RIFD-protected pocket for credit cards, a compartment to store shoes, cushioned pockets for laptops, tablets, and notebooks;
TSA Compliant design – The laptop compartment lays flat so that the bag can be passed through airport scanners without having to take it out;
Laundry bag – The travel bag features a separate area for dirty clothes;
Waterproof zippers – All the exterior pockets come with waterproof zippers;
Pros
Organized interior – The bag comes with pockets for anything a traveler might need, also making it easy to get to various items without having to take everything out;
Large laptop pocket – You can store 15"Mackbook Pro laptops and tablets that measure up to 8.5" x 11";
Durable build – The seams and zippers are heavy-duty and will last for years;
Cons
No color options – The travel bag only comes in black;
Investing in comfort
While there are cheaper models, there is more to getting a proper travel bag than just buying a container for your things. Quality bags and backpacks are made of materials that are designed to protect your things in all weather conditions and to ensure that theft is not possible. Models like the Nomatic Travel Bag come with compartments that allow you to isolate more sensitive items from the rest of your things and are designed to make going to airport checkpoints a breeze.
In the end, getting a quality backpack is an investment. It means getting a piece of travel gear that will last you for a very long time while also keeping all of your things in working condition regardless of how much time you spend on the road
Durability and dependability
The popularity of travel bags rarely comes due to their brand. Usually, when a model is popular it means that it gets the job done and that it doesn't degrade after the first couple of years. As it can be seen from most Nomatic Travel Bag reviews, this is where this piece of travel gear truly shines. The materials used in its construction are durable, the zippers do not break over time, and the contents stay dry even in the worst weather conditions.
Conclusion
The Nomatic Travel Bag is a great choice for those who travel on a regular basis and need to make sure that their things are always safe and at hand. The shoe compartment prevents clothes in the main compartment from getting dirty, and the various pockets are perfect for organizing things in order to access them more easily. Also, the fact that it can be also carried as a backpack is great for those who need to cover long distances by foot.