Osprey Farpoint 40 Review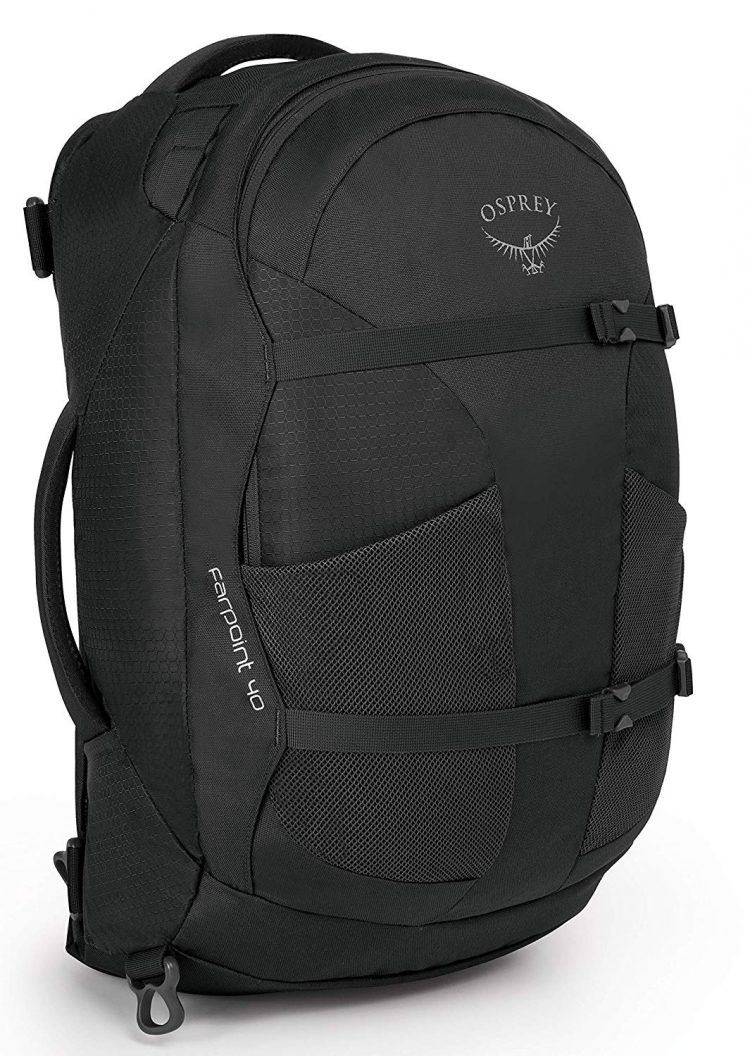 Osprey Farpoint 40 Review – A Stylish Backpack Designed For Passionate Travelers and Commuters
A good travel backpack is meant to keep your things safe, but also to be comfortable so that you can actually wear it for prolonged periods of time without chafing. There aren't many Osprey Farpoint 40 reviews on the web, however, the few ones that do exist show that this model is one of the best backpacks for commuters and for people who have a lot of tech that they need to have with them at all times.
There are a lot of details that factor into how useful is a backpack really is, such as how well it is compartmentalized, the durability of its zippers, padding for laptop and tablet pockets, padding for the straps in order to protect the wearer's shoulders, and many others. This having been said, let's look at how the Farpoint 40 can actually make a traveler's life easier.
How does the Osprey Farpoint 40 compare to other models?
The Osprey Farpoint is just as useful if you are planning to take a trip to a foreign country, as it conforms to the size regulations imposed by most airline companies. The model comes in several colors, with padded handles that enable the owner to carry it as a bag, and compression straps that help reduce its volume.
Features
Quality materials – The backpack is made of nylon woven in ripstop fabrics that are extremely resistant to wearing and tearing, making it ideal for trips into the wilderness, as well as urban exploration;
Easy access – The main compartment of the backpack can be accessed through a large panel, enabling the owner to take large objects in and out without any effort;
Well, compartmentalized – Laptops and tablets can be stored in specialized, padded compartments that are located in a secure section of the backpack that can be locked in order to prevent theft;
Stowaway back panel – Items such as the hipbelt and the harness system can be stored away in a small compartment in order to make the backpack more compact and easier to travel with;
Compression straps – The backpack comes with front compression straps designed to keep items from moving while on the road and to help reduce its volume;
Padded Handles – The backpack also comes with padded handles that enable the owner to carry it in one hand;
Multiple colors – The model comes in Caribbean Blue, Jasper Red, and Volcanic Grey, all of which look great in both urban as well as wilderness environments;
Pros
Sleek design – Where other backpacks of this size tend to be extremely bulky and to have loose straps that get caught in doors or branches, the Farpoint 40 is extremely compact;
Comfortable and light – The backpack itself is extremely light and the padding does a great job at protecting the wearer's shoulders and back;
Cons
It does not fit under the seat – While the backpack is ideal to use as a handbag during flights, it is too big to fit under the seat;
Perfect for urban environments
While style isn't too important when it comes to travel bags and backpacks, functional design is. The Farpoint 40 is spacious, enabling the owner to store larger things such as professional cameras, lens, and 15" laptops without increasing the volume of the backpack to the point where it becomes uncomfortable. The neat exterior also makes it ideal for those who commute to work as it will fit in most spaces designed for luggage without having straps or pieces of material getting caught on anything.
Conclusion
Most Osprey Farpoint 40 reviews call the backpack ideal for urban travel, however, the model is perfect for any kind of situation, from trips around town to weeklong vacations abroad. While it does not come with a laundry bag, a shoe compartment, or other features designed for those who travel for more than two weeks, it is one of the most useful backpacks on the market.
Those looking for an entry-level piece of travel gear that will not cost a lot of money and still have all the features that one would expect from a backpack will find that this model is a good choice. It's durable, well-organized, and versatile.