Cotopaxi Batac 16L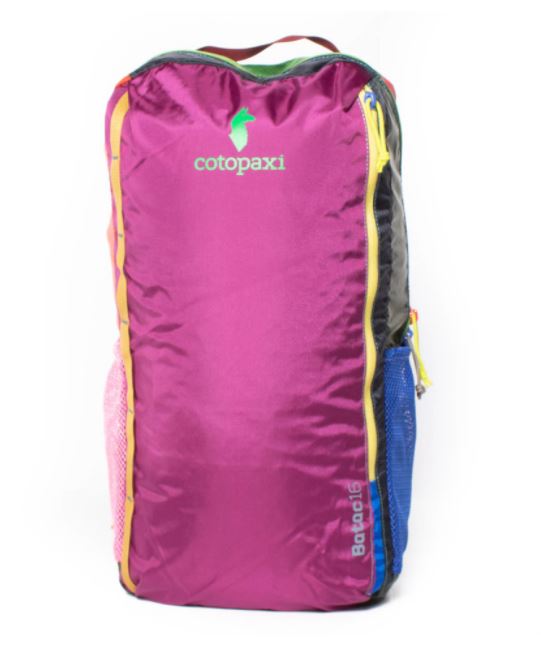 Like the Luzon, Tarak models of Cotopaxi, the Cotopaxi Batac 16L backpack also is designed from the Del Dia Collection. This means that each backpack here is designed uniquely, and people get a different and cool design every time they order. These backpacks are known for lightness, and they are also environmental friendly.
This medium-sized backpack is a unisex model and is lightweight, and has just the right number of pockets. In this review of the Cotopaxi Batac 16L backpack, you will get to what its features are, and by the end, you will also know for sure if you do want to buy this backpack or not. 
What does the Cotopaxi Batac 16L offer?
The Cotopaxi Batac 16L is a comfortable backpack to have. It is also effortless to access different compartments here. It has a top opening zipper that extends from one side to the other side, so you can access things at the bottom quickly. There's also another compartment that has side access. This can be used freely by just swinging the backpack to one side, and you can access this.
Features:
Design and Make:
This backpack is made of recycled Nylon fabrics ranging from 75D to 120D in thickness. This material ensures that the backpack can withstand severe conditions. Each backpack is also unique and has a special color design. 
Shoulder Strap:
Batac 16L has a sternum strap that disperses the backpack's weight and prevents shoulders from feeling sore or painful. This also keeps the straps in place, ensuring they don't slide off the shoulders.  
Durable design: 
The fabric has been strengthened in areas where wear and tear are most likely to occur over time, prolonging the backpack's life even when used regularly.
Versatility:
The main compartment has a laptop sleeve and also a small zippered mesh pocket with a key. The second compartment here is very easy to access as it has side access. 
Side Pockets:
This backpack has two mesh side pockets to store water bottles or any other things.
Durability:
Each backpack is made up of a ripstop nylon fabric of thickness varying from 75-120D. The material can be a bit thin and thick at times, but the stitching is neat and robust, making the backpack pretty durable. 
Pros:
Batac 16L is Lightweight and Durable.

We can also easily access contents in different compartments of this backpack. 
Cons:
There is no padding or support available on the back.

Batac 16L also has no hip belt.

This backpack also has small side pockets.
Our Conclusion:
Most Batac 16L reviews online omit the fact they are backpacks only ideal for light and casual use. These backpacks are not made for carrying heavy loads. As they do not have any padding or support, hip belts, it's challenging to use these backpacks for extended periods with heavy loads. Batac 16L, though, makes for a useful and casual travel bag to have. They also have some great features like ease of access, a standout design, and lightness. If you are looking for a backpack for regular use, this is a great option to consider.